JOOR's Brands and Retailers on Plans for Fall Market
We've gathered feedback from our extensive network of brands and retailers around the globe to provide insight into their plans for the fall market season. Did you know nearly 60% of brands have achieved sales volumes even greater than pre-pandemic levels—a significant lift from the 49% recorded at this time last year?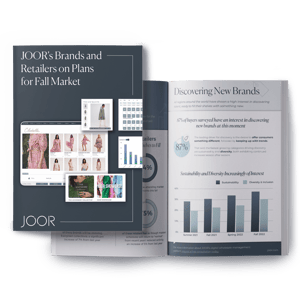 What's inside?
- What percentage of brands and retailers will be conducting business in physical, virtual, and hybrid environments

- The leading themes retailers are searching for in discovering new brands

- Understand the degree to which brands and retailers can shop and sell with increased flexibility
Brand relationships are one of the pillars of success at Neiman Marcus. JOOR has helped streamline the [wholesale] process and is a great platform to collaborate with our brand partners to find all of the right styles to curate the best assortment.
Sr. Director, dmm Fine Apparel