Shaping the Future of Wholesale Fashion
5 Need-to-Know Trends
In the past year, the retail industry has undergone significant transformations, and brands that have adapted to the changing market dynamics have emerged as the frontrunners.
So how do you stay ahead of the curve in the ever-evolving world of wholesale fashion?
What's in this guide?
We highlight the trends shaping the future of wholesale fashion. You'll discover:
How economic pressures, inflation, and exchange rate fluctuations will impact fashion wholesale buying and selling in the future.
Why wholesale is making a strong comeback as brands recognize its potential for profitable growth.
How embracing hybrid retail experiences can enhance convenience, improve customer experiences, and drive business growth.
The power of customization and high-quality virtual presentations in curating distinctive brand identities.
Valuable insights into the shifting landscape of buying and selling seasons.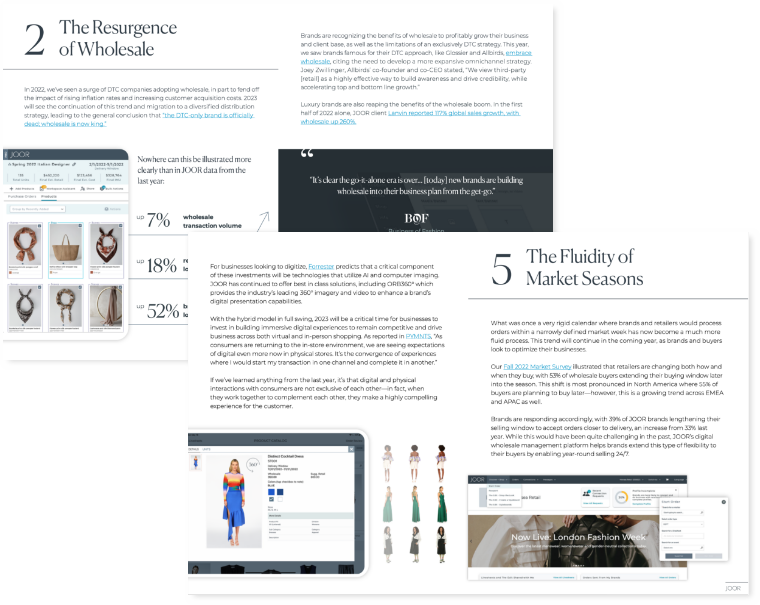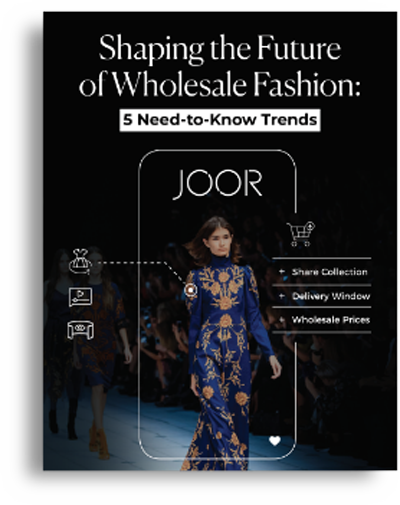 How will it benefit your fashion wholesale business?
This guide, curated by the fashion wholesale experts at JOOR, delivers the knowledge you need to help you navigate a rapidly changing wholesale market, enhance customer experiences, adapt to market season fluidity, and drive digital transformation.
Armed with this insight, your fashion wholesale teams will be able to make better-informed decisions, diversify distribution, provide seamless experiences, optimize operations, and foster competitiveness - leading to growth, increased sales, and improved performance.